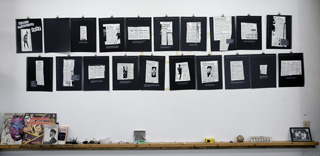 hippie vancouver 1967 - screenprinted notebook pages
1.5.07
"a story of the increasing tension between Vancouver's general public and it's growing hippy population, hippie vancouver 1967 provides a vivid snapshot of the polarized social and political climate in which the Intermedia Society first opened it's artists' workshop in the summer of 1967."
MdeC, New Westminster,
autumn 2007
15. 10. 07
i n t e r m e d i a 1 9 6 7
hippie vancouver 1967
The spring and summer of 2007 marked the 40th anniversary of both Vancouver's "hippie" summer-of-love happenings and the opening of the Vancouver Intermedia Society's artists workshop. Along with this apparent coincidence of timing, there is a deeper and more fundimental linkage which exists between these two seminal Vancouver events.

The Vancouver hippie community and the city's multi-media artists scene evolved simultaneously, but although they were each preoccupied with separate and distinct agendas, they did on various occasions intersect and merge in highly productive ways. bill bissitt's groundbreaking poetry and visual arts magazine blew ointment press and later the Sound Gallery / Motion Studio's pioneering performance initiative, both stand out in the annals of Vancouver art history as examples of this effective artist / hippie alliance. And so, with regards to our generalized notion of 1960's "youth culture" or "the youth movement" of that day, hippie culture and multi-media art were in fact mutual and complimentary expressions of their time.

Artists, poets, musicians and hippies in the 1960s often exhibited a shared taste in clothing, music and psychedelic drugs. These nonconformist youths, in the eyes of the general public, were outwardly all but indistinguishable from each other. The artist members of the Intermedia Society identified with the hippie community and its struggle. It is ironic, and an indicator of the level of anti-hippie rhetoric at the time, that as the Society prepared to open its doors to the public, it felt it necessary to disassociate from the hippie movement, with which psychedelic drug use was closely linked. According to artist Jack Shadbolt, a founding member and one of the society's main early spokespersons, Intermedia was to be considered "educational" and "serious..."
"Shadbolt said Intermedia, which will deal amongst other things, with electronic exploration in sound and light, is a pioneer in it's field in Canada — and it is for this reason that the Canada Council is so interested."

"What we will be trying to do is explore the whole area of sensory experience," he said.

"We have no connection with the psychedelic stuff that happens to be in vogue at the moment and we do not want to be tarred with the same brush."

"Education will play a function in our work, examining patterns of response and so on. Our organization will be primarily an electronic and technical workshop. It's a serious experiment."

THE PROVINCE : Sunday, April 15, 1967
Non-existent group wins $40,000 grant

On April 21, 1967 in an interview with CBC radio Intermedia was asked weather their proposed workshops might resemble a sort of 21st century community center and / or a hide out for hippies, founding member Joe Kyle responded by describing the kind of environment which he hoped Intermedia might provide ...
"creative exploration could take place on an interactive basis between artists, between technologists and between seriously interested people."
" i don't think it's very desirable to try and define Intermedia in too great detail at the moment because its exploritory we are in a sense discovering this thing into existence... "
for the complete interview click here