BIOGRAPHIES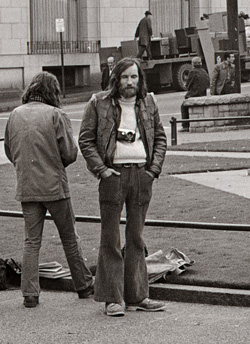 Gerry Gilbert
Writer, artist, filmmaker. Gerry Gilbert was born in 1936. He studied at the University of British Columbia (1954-1956). Subsequently, he lived in Montréal and Europe. He founded British Columbia Monthly (1972), a writing anthology magazine. With Glenn Lewis, Gilbert organized the first B.C. Art Race in 1974, a performance piece that entailed a foot race along Georgia Street with the artists "carrying their art on their backs" for the Canadian Broadcasting Corporation. He also hosted radiofreerainforest on CFRO Radio. He was one of 15 contributing artist/photographers in the group photographic exhibition/publication The BC Almanac(h)-CB, 1970. Gilbert's photographs and films have been included in exhibitions at the Vancouver Art Gallery, The National Film Board of Canada, the Morris and Helen Belkin Art Gallery, the Western Front, and the Contemporary Art Gallery. He was a prolific poet, with many volumes to his name, including White Lunch (1964), Phone Book (1966), I'm Getting Tired of Hallucinations (1976), So Long Song (1988), Year of the Rush (1994), and Moby Jane (2004). His video, performance, and photographic work have been collected on Gerry Gilbert/ the movie, a 12-hour videotape. Gerry Gilbert passed away in Vancouver in June 2009.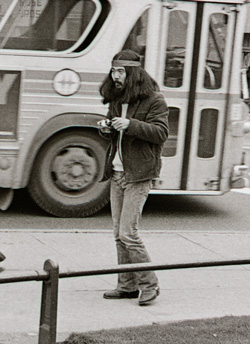 Taki Bluesinger
Artist/photographer Taki Bluesinger (Sekiguichi) was born in Saitama, Japan in 1943. He immigrated to Vancouver in 1969, after refusing an assignment from Time magazine to go to Vietnam. He quickly became involved in groups such as the Intermedia Society and the New Era Social Club. Along with Background/Vancouver, Bluesinger participated in many collaborative photography projects, such as 13 Cameras and The Origins of Man-Made Paradise. His work was included in the exhibition Yellow Peril: Reconsidered at Artspeak Gallery (1991). He is represented in the collection of the National Gallery of Canada. Bluesinger passed away in 2004.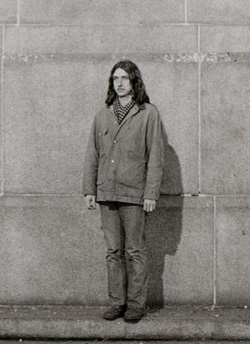 Glenn Lewis
Artist, educator. Born in 1935, Glenn Lewis graduated from the Vancouver School of Art (now Emily Carr University of Art + Design) (1958) with honors in painting, drawing, and ceramics. Subsequently, he received a teaching certificate from University of British Columbia (1959) and he studied ceramics under Bernard Leach in St. Ives (Cornwall, England) (1961-1964). Lewis has worked in video, performance, film, ceramics, photography, sculpture, and writing. He was an active member of the avant-garde art scene in Vancouver during the 1960s, producing work that blurred the boundaries between media and between viewer and artist. He has taught widely, including ceramics and art teaching methods in the Education Department at the University of British Columbia (1964-1967), media workshops at the National Film Board in Vancouver (1968-1970), and ceramics, sculpture, and drawing in the Fine Arts Department at the University of British Columbia (1971-1974).
As one of the co-founders of the Western Front, Lewis initiated and administered the Video Program (1974-1976), curated the Performance Art Program (1977-1979), acted as arts administrator and program coordinator (1979-1987), initiated and coordinated the Computer-Integrated Media Program (1985-1987) and was Acting Director for three months in 1994. In addition, Lewis was head of the Media Arts Section of the Canada Council (1987-1990). Lewis has served on countless boards, including the Intermedia Board of Trustees (1970-1972), the Vancouver Art Gallery's Board of Directors (1973-1976, 1986-1987), the Western Front Board of Directors (1974-1987, 1991-present), as well as serving on various Canada Council juries (1978-1985). Performances and groups exhibitions include Floor Piece (1968), Japanese Pickled Cabbage (1969), Taping of the International Art Critics (with Michael Morris, 1970), participation in international correspondence activity (1970-1972), The Intermedia Society (1995), Thrown (2004). Solo exhibitions include the Douglas Gallery, the Vancouver Art Gallery, and the Belkin Satellite. Lewis lives and works in Vancouver.
Additional information and materials about Glenn Lewis are available on request in Art, Architecture and Planning at the University of British Columbia Library. http://www.library.ubc.ca/finearts/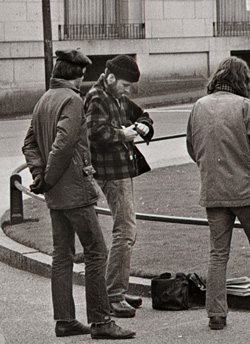 Michael de Courcy
Artist, educator, curator. Michael de Courcy was born in Montréal in 1944. He studied at the École des Beaux Arts in Montréal and the Vancouver School of Art (now Emily Carr University of Art + Design). In the late 1960s, during his formative years as an artist, de Courcy was a core member of the Vancouver artists collective known as the Intermedia Society. While there, he produced an extensive Intermedia photo documentary project which he has since developed into a web installation entitled The Intermedia Catalogue (2009).
In the past 45 years, de Courcy, has produced over 40 photography and print making projects, many of which have been long-term. These projects include: Background/Vancouver (1974), Greetings from the Urban Wilderness (1976), The Vancouver T-Shirt Open (1978-1982) and The Wedding Picture Project (1994). While many of his works have been presented as interventions in public places, he has also been exhibited widely in galleries including The Vancouver Art Gallery, The Canadian Museum of Contemporary Photography and The Museum of Modern Art , NYC. He co-curated two group photographic exhibitions/publications The BC Almanac(h)-CB, 1970 (with Jack Dale), produced for the National Film Board of Canada and 13 Cameras, 1979, (with Roy Kiyooka) produced by the Canadian Museum of Contemporary photography (now a part of the National Gallery of Canada).
de Courcy has lectured and given workshops at cultural institutions including: The School of the Art Institute of Chicago, York University, The University of Windsor, The University of British Columbia and the Emily Carr College of Art and Design (now Emily Carr University of Art + Design).
For the past decade de Courcy has characterized himself as a multi-disciplinary artist and community activist. He considers his work to be closely related to public art. In 2012 along with Fumiko Kiyooka he founded and is on the Board of Directors of the Roy Kenzie Kiyooka Foundation. Recent de Courcy projects include: The Intermedia Catalogue (a 2009 web-installation documenting the Intermedia Society's experiments, experiences and ideas from the point of view of its member-artists) ; and the exhibition/public art project Dead and Buried: The Remapping of the Cemetery at Woodlands, 2010-2012 (a process of redress for the three thousand persons who are at present buried in unmarked graves in the former British Columbia Provincial Asylum site). These projects are at once contemporary and historical in nature. They have been gallery exhibitions and/or are also published in the form of archives, articles and installations on Michael de Courcy: projects website.
Since 1989 de Courcy has lived and maintained a studio in New Westminster, British Columbia.
The Intermedia Catalogue
Dead and Buried: The Remapping of the Cemetery at Woodlands
Michael de Courcy Projects Site